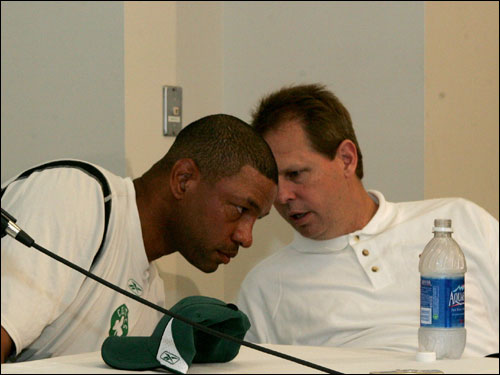 es
vs
Miami Heat (2-1) at Boston Celtics (1-2)
Monday, May 9
7:00 PM ET
Playoff Game #8, Home Game #4
TV: TNT
Radio: WEEI
TD Garden
As satisfying as the Game 3 win was, it will mean nothing if the Celtics don't win game 4. The Celtics must come out with the same resolve to win game 4 as they did in game 3. KG has to come out with the same intensity, demanding the ball and beasting on the boards. The Celtics must be the more aggressive team once again in this game.
The Celtics have endured 3 games where the game was called differently for the two teams. The Heat have taken more free throws in all three games. The Heat were the more aggressive team in games 1 and 2 and so one could make the case that they should have taken more free throws. But, the Celtics were clearly the more aggressive team in game 3 but still couldn't get the calls.
Hopefully the injury to Rondo will force the referees to call the fouls on the Heat in this game.
Rondo and Delonte are both listed as game time decisions but Doc has said that he expects that both will play in this game. The big question will be how effective both players can be. The Heat are going to come back in this game with the intention of being aggressive and so the Celtics must be ready for that and match their intensity.
Both Rondo and West went through the Celtics' shoot around and although Rondo is still listed as a game time decision, Carlos Arroyo expressed his opinion that Rondo was ready to go tonight. Hopefully the injury won't hamper his effectiveness in this game. After LeBron expressed his concern over his team's slow starts in the 1st and 3rd quarters, the Heat are mulling a lineup change that would start Chalmers and Anthony in place of Bibby and Big Z, who have been largely ineffective on both ends of the court.
The Celtics can't be content with winning game 3. It's all about 18 and the Celtics must win game 4 and defend their home court. If they come out strong like they did in game 3, they have a very good chance of doing just that.